Unemployment Trip to Adirondacks National Park
"What is the good of being a genius if you cannot use it as an excuse for being unemployed?"
Day 1:
August 22nd, 2008 was my last working day, as an intern, at Irving Oil and I still did not have a job lined up. I decided to go for a weekend ride and camping rather than sulk in my apartment. A friend helped me fix the brakes and change the brake pads on Friday night and by next morning my brakes were in a perfect working condition. I had rented a Tent and Sleeping pad a day earlier for the weekend. I strapped the sleeping bag, the tent, sleeping pad and my back pack on the bike and set sail. I had to use innovation to be able to be able to strap all of them as this bike is not exactly designed for adventure touring. I started riding early morning on Saturday and caught the sunrise when I was on the highway. Last time I remember seeing a sunrise was when we were partying overnight in Lima, Peru.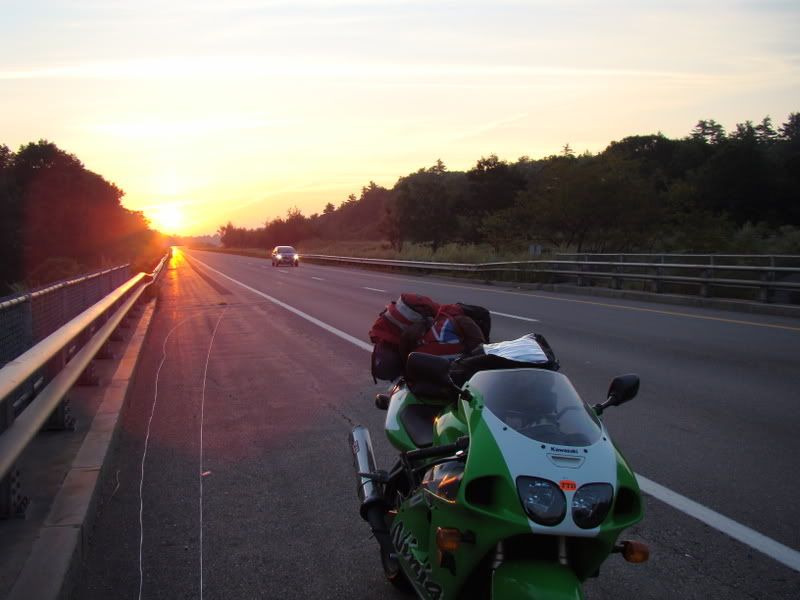 My Camera was acting all funny. I think having been on my tank bag for so long for the past few weeks, something inside it came loose or something. This is the kind of pictures it started taking. The whole image was shaking very vigrously and the camera was making a funny clicking sound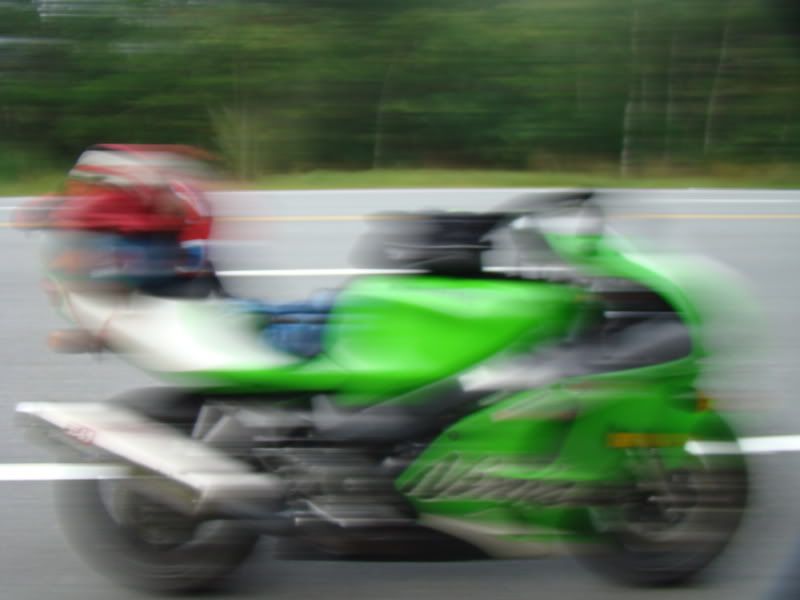 As soon as I entered Vermont, I had plans to hit PDR – Puppy Dog Road, a dirt and gravel track which goes all the way upto Canadian Border. I did some part of it but unfortunately I had to leave that track when I saw the floating bridge, which is a major part of it was closed. Also I had to meet up with a friend for a hike in Burlington, VT. So, after riding some dirt tracks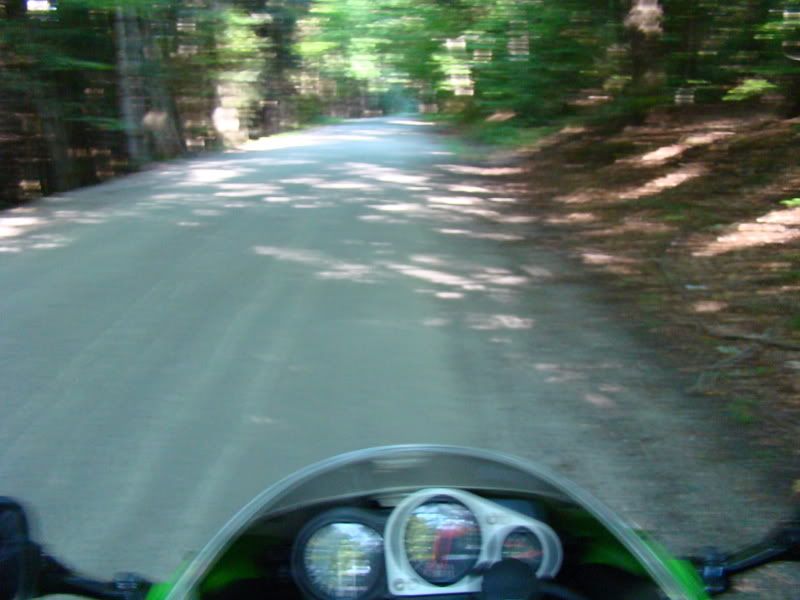 I hit the highway and slabbed it all the way to Winnoski, VT where my friend lives. Soon me and Adam left for Camel's Hump. We hiked up for about 2 hours and the view from the top was amazing. I think it will be a great hike in fall for the colors. The hike down took us almost the same time and by the time we reached the bottom, we both were starving. Went to his place, showered quickly and then left with his room mate for getting some food. Nothing better than a huge Burrito when you are starving!
Day 2:
Stayed at my friend's place for the night. Crashed on his couch but got a great sleep after the tiring day or riding and hiking.
Next morning, hit the road after a long and lazy breakfast. Hit some nice back roads in VT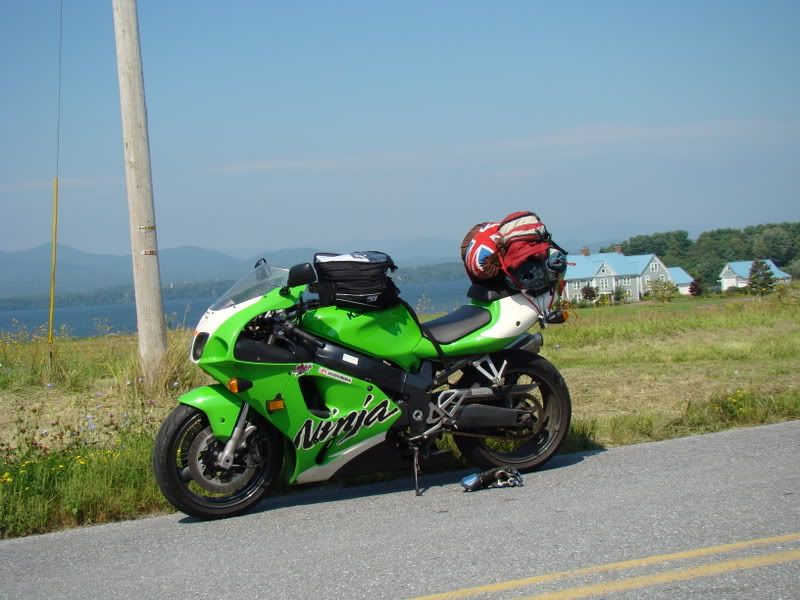 Took the Chimney Point Bridge into NY and straight into Adirondacks Park.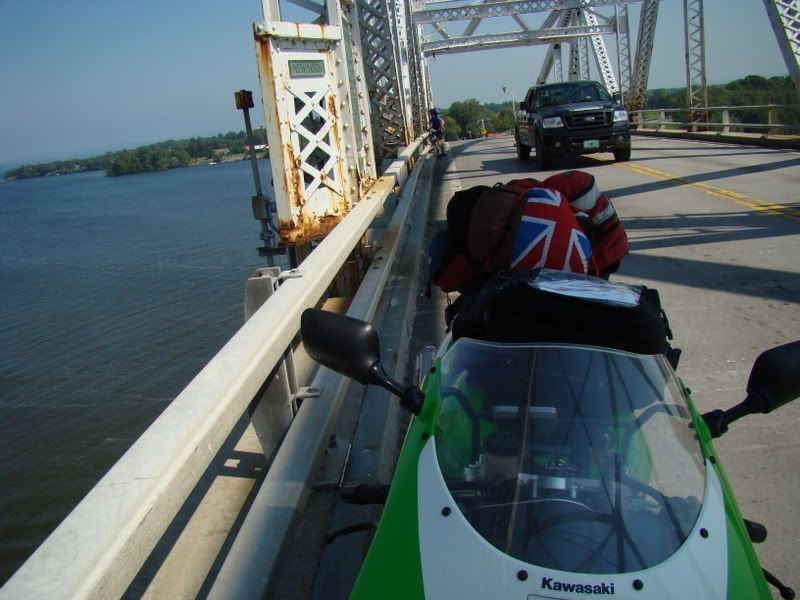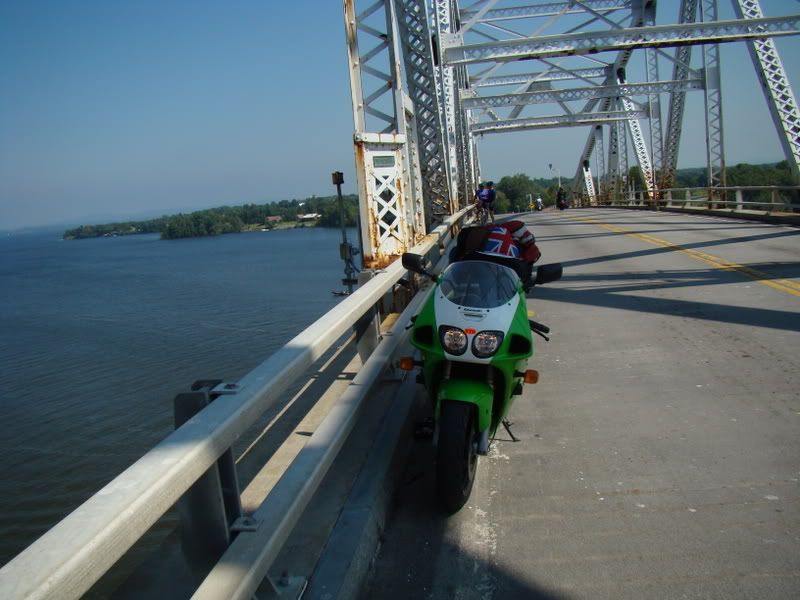 I wish I had one of those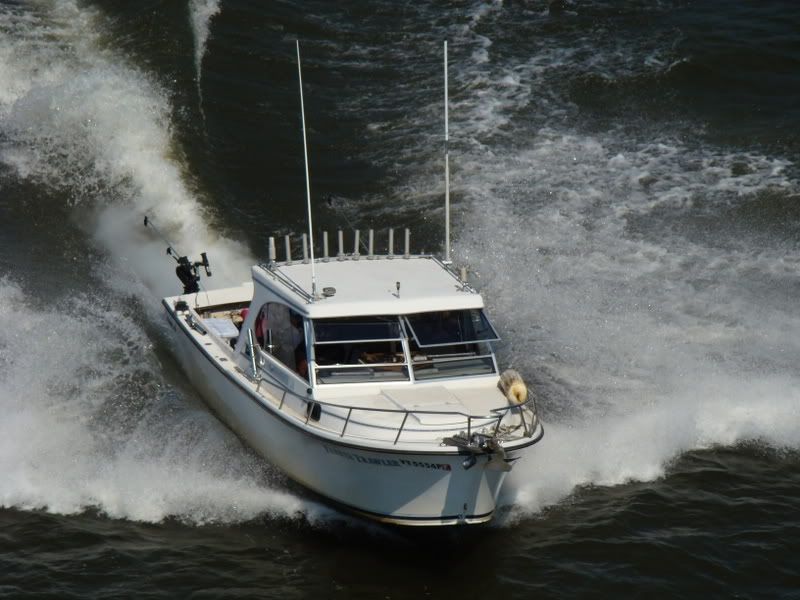 I wanted to do the super secret T road I had heard about and asked around for it. Once there, the road was awesome. It really looked like it was designed by a race track designer.
I was very happy after riding it. Did it about thrice. Very few pics and no pics of the real twisties for obvious reasons.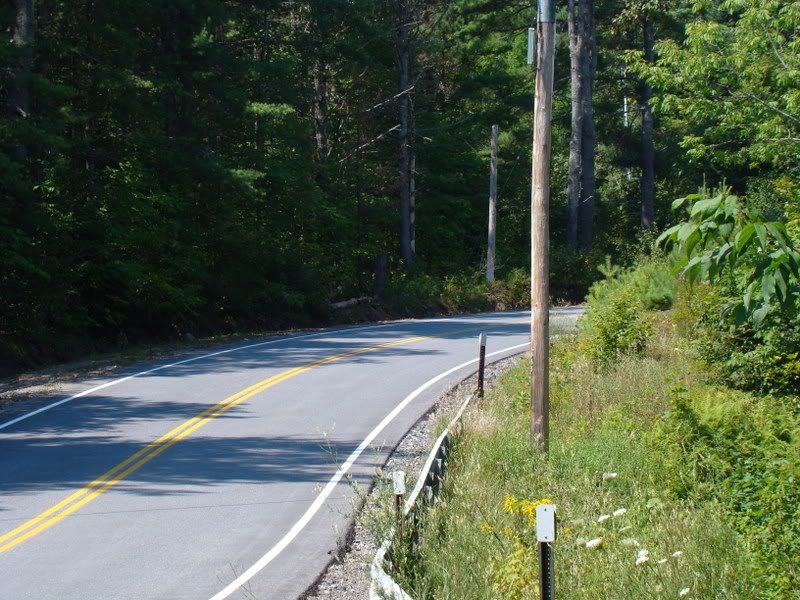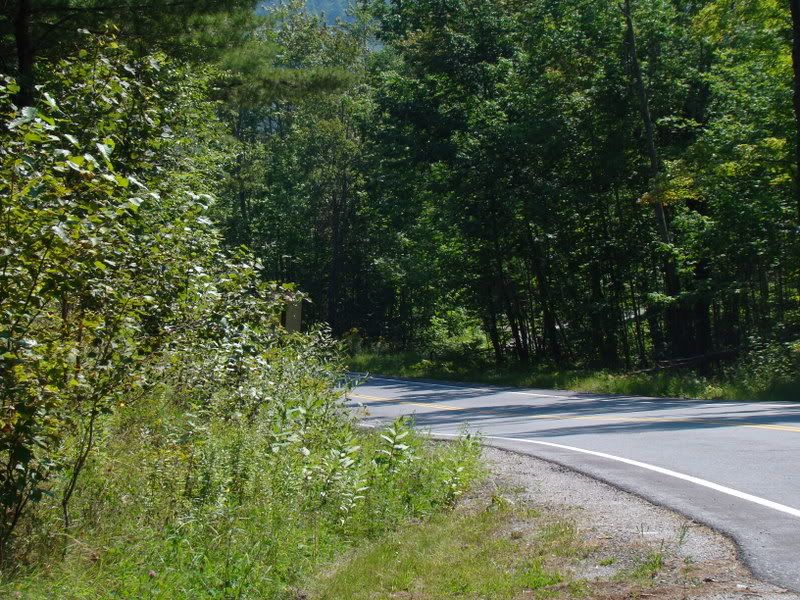 I needed a small snack break after that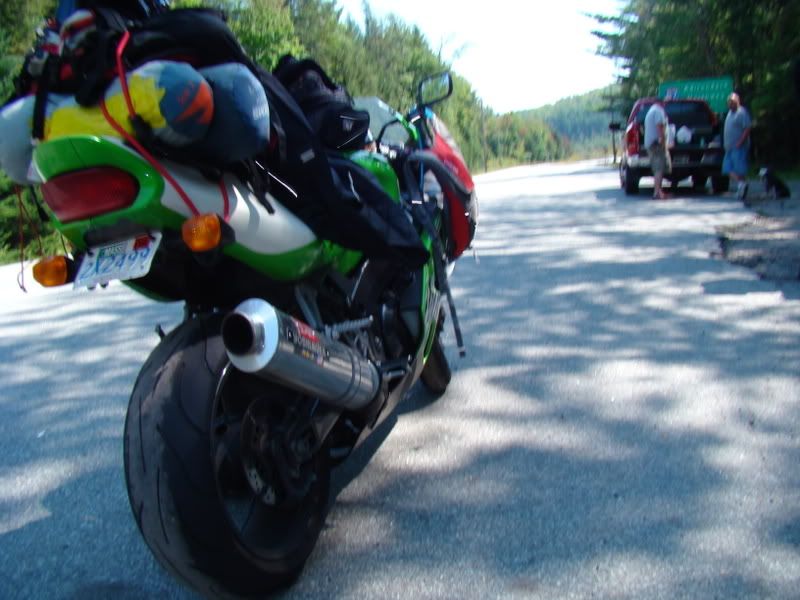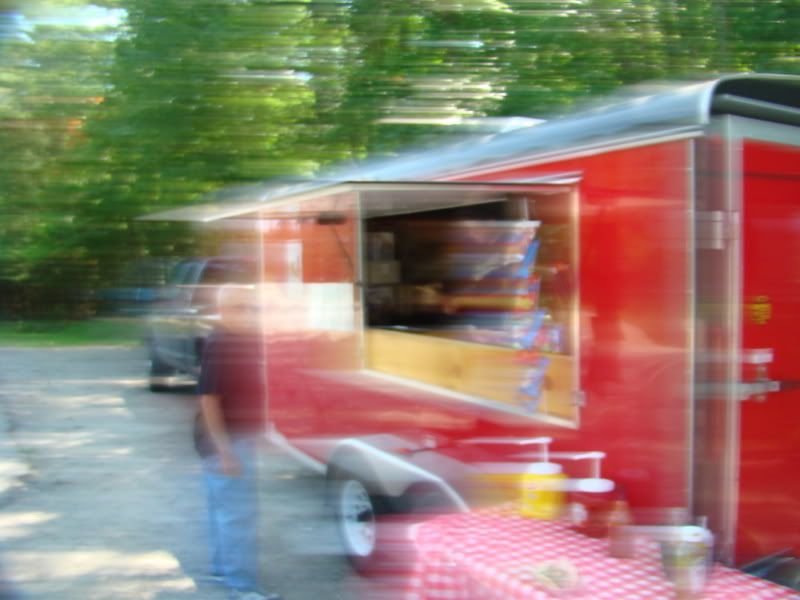 Yogesh, I need a BCMT T Shirt!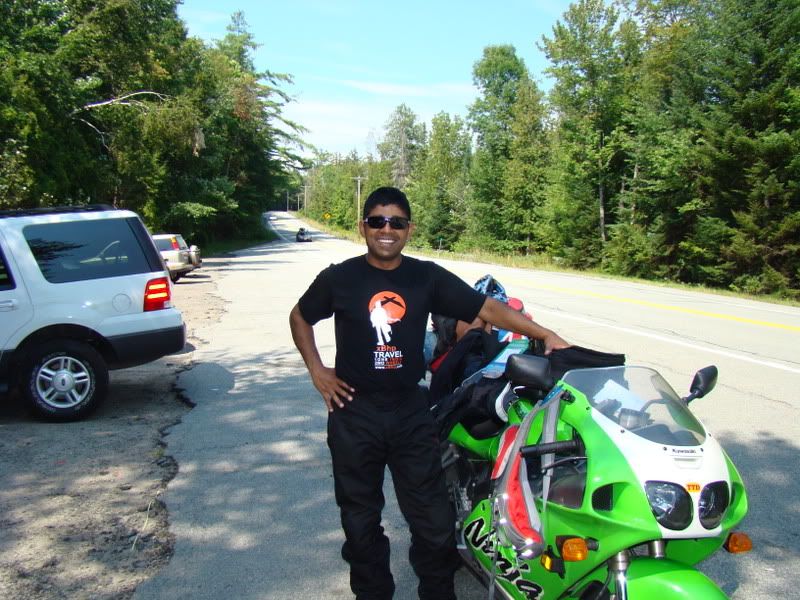 I really wanted to see the Lake Placid. Realised the lake was one of the smallest in the area and could not even find it. Anyways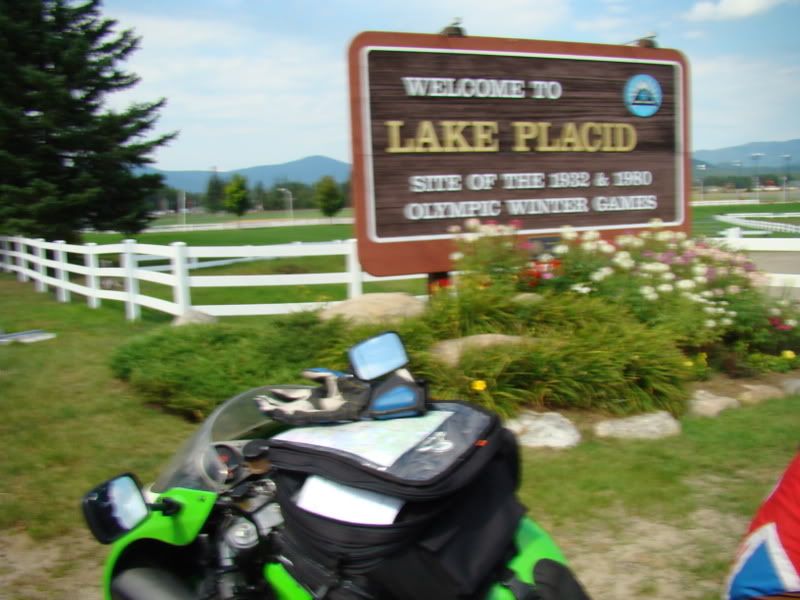 Found out about a camping spot from the info center and headed out there. It was quiet a ride from the Lake Placid. The roads in the park are awesome. Nice and twisty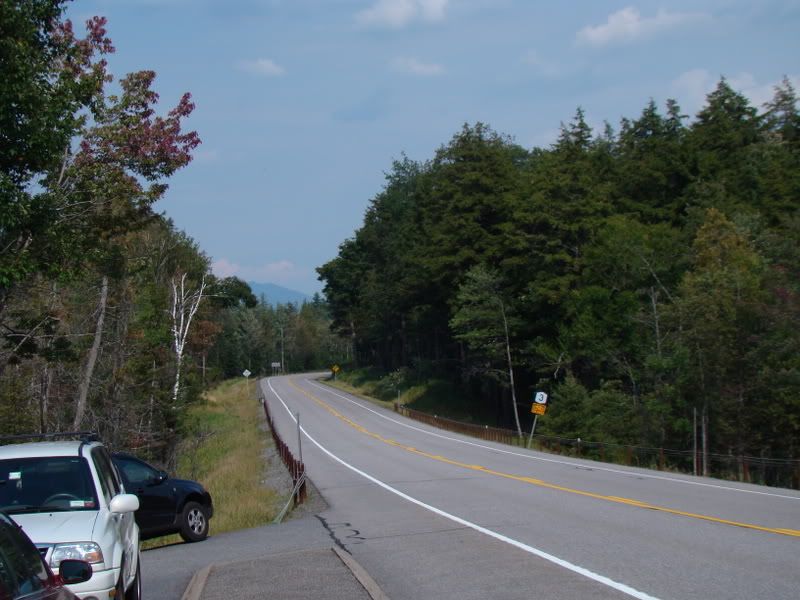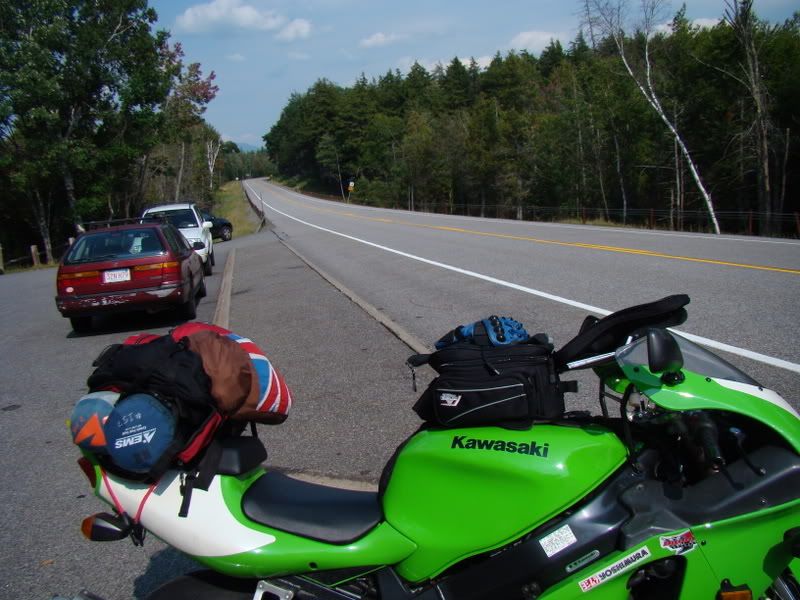 A small mishap happened over here. I put the bike on the stand and was taking out the camera from the tank bag to take pictures. Suddenly the bike started to tilt towards the right. I had my hand full with the camera and I put it quicly back into the bag and tried to save the bike but it still tipped over. A family had also stopped at the rest stop and helped me pick up the bike. Small damages – Indicator cover broke but would still would need to fix the whole assembly, scratch on the headlight cowl and sctartches ont eh lower fairing. Anyways, as long as no major damage happens, I am fine with it. The carbs were flooded so had to wait for them to be normal before I started again.
I camped at Fish Creek Pond. I realized the camping spot was expensive - $22.50 but was in no mood to find the free spots and did not have enough tools like a coking stove or any food to camp alone. So set up camp in the public camping area.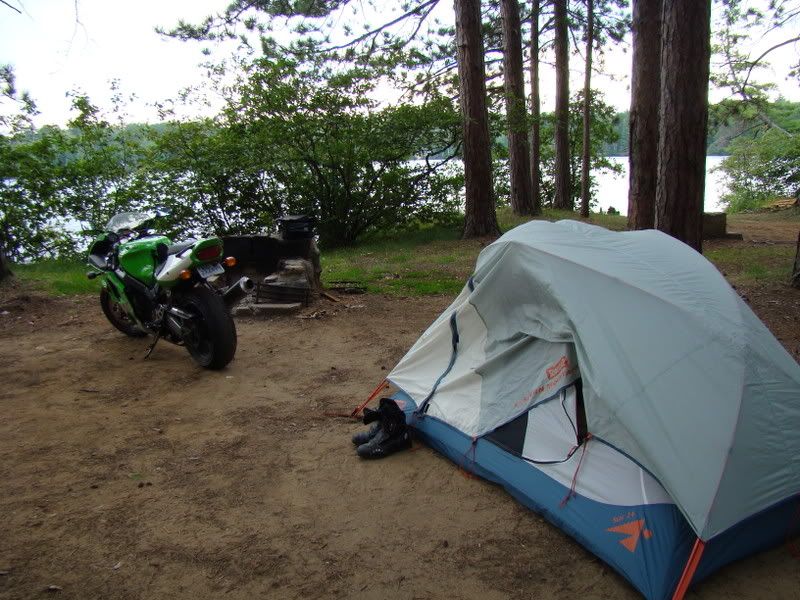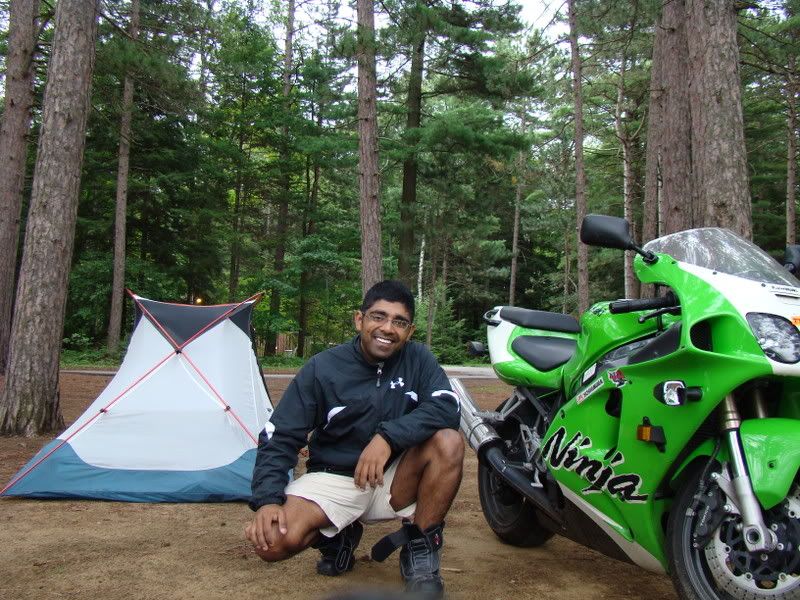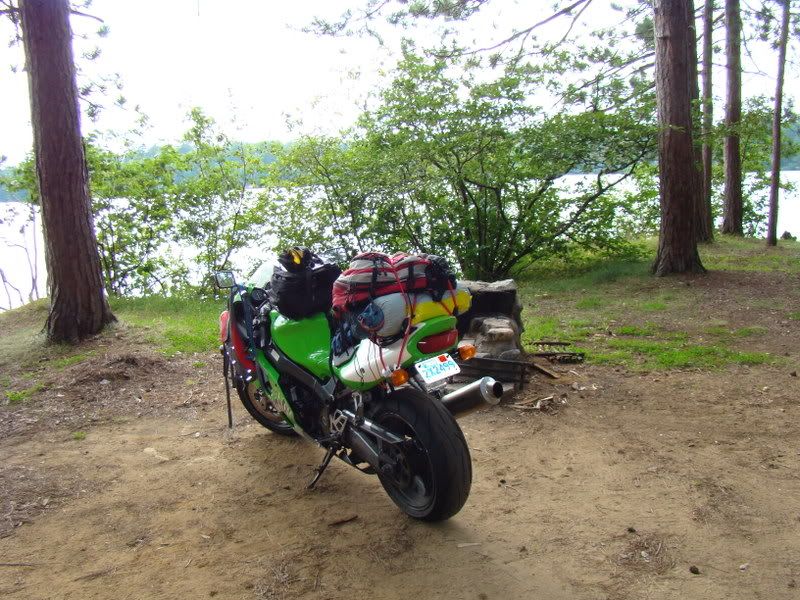 My Campsite was unique in many ways. I was the only Indian in the whole park. I was the only one on a bike and I was the only one who was alone
This is how a regular campsite looked like
This is how mine looked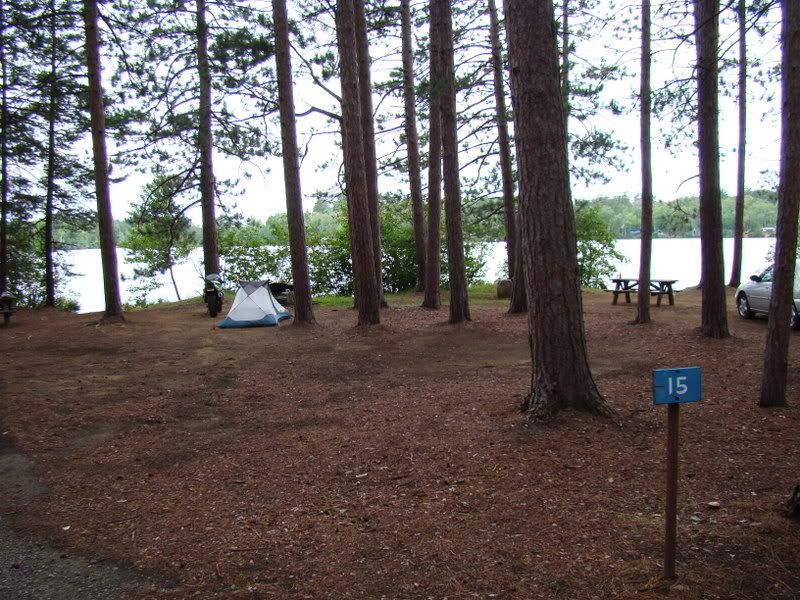 One of the reasons for choosing this park over others was it was one of the few which were just long the water. View from my campsite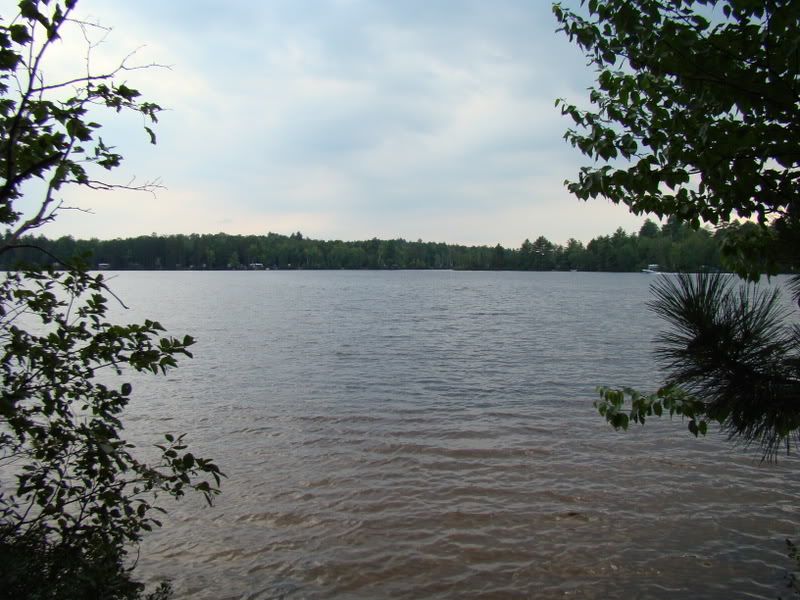 The campsite also had a live musician playing in the evening. Went and listened to some old country songs.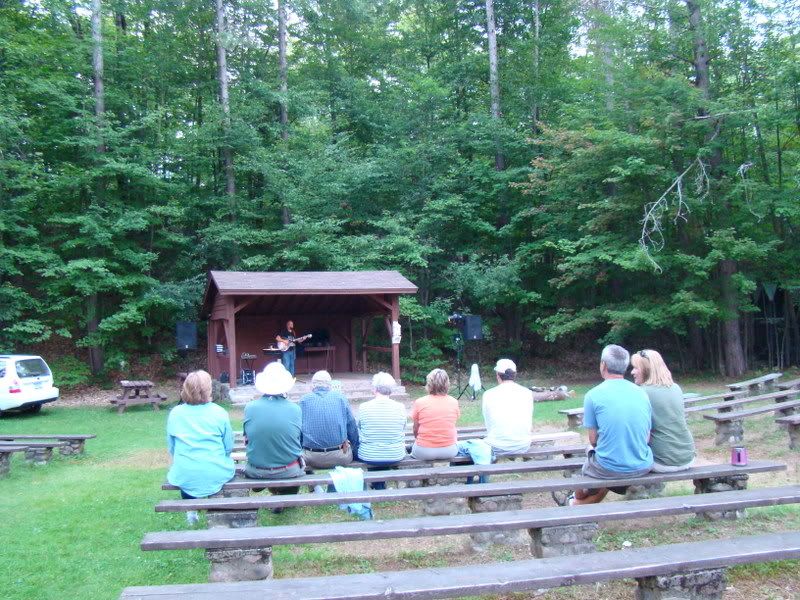 Now I was feeling a little tired and did not have any food with me. Had some Icecream from a Ice Cream Truck in the park and then rode to the local deli shop to get a Subway Sandwich. Also got a beer, came back to the site and had probably the longest Subway Sandwich dinner ever just looking towards the lake and enjoying the isolation.
Retired into my little home for the night
Day 3:

Got up and just lazed around in the quite tent. Finally it was time to leave and before I left I spent some time reading a book sitting on the picnic bench next to the lake. I decided to go to Plattsburg and take the ferry over to VT and then slab it out on the highway.
Nice Roads again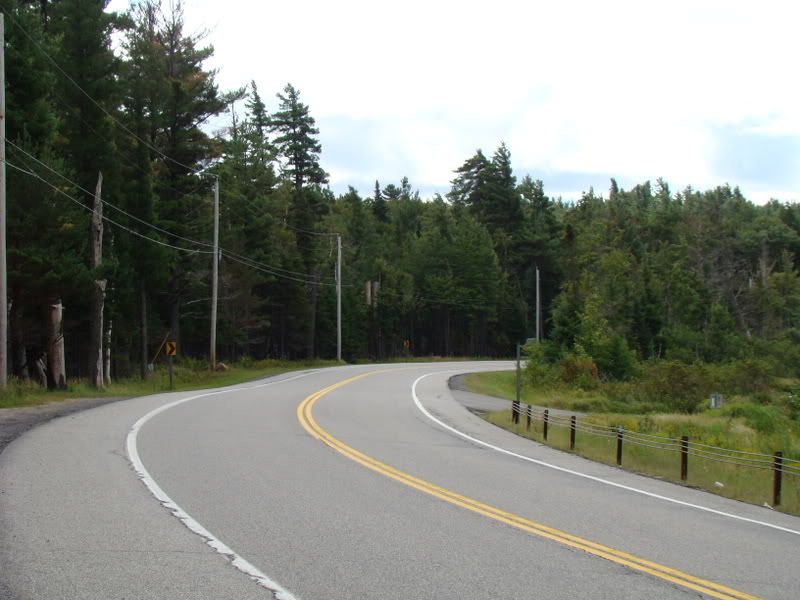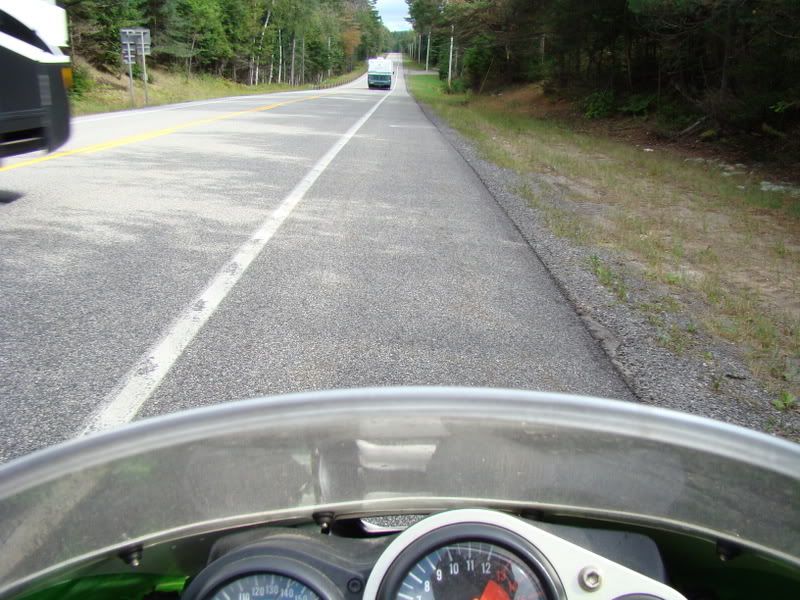 I went off course at one point after missing a turn but took the opportunity for taking an awesome pic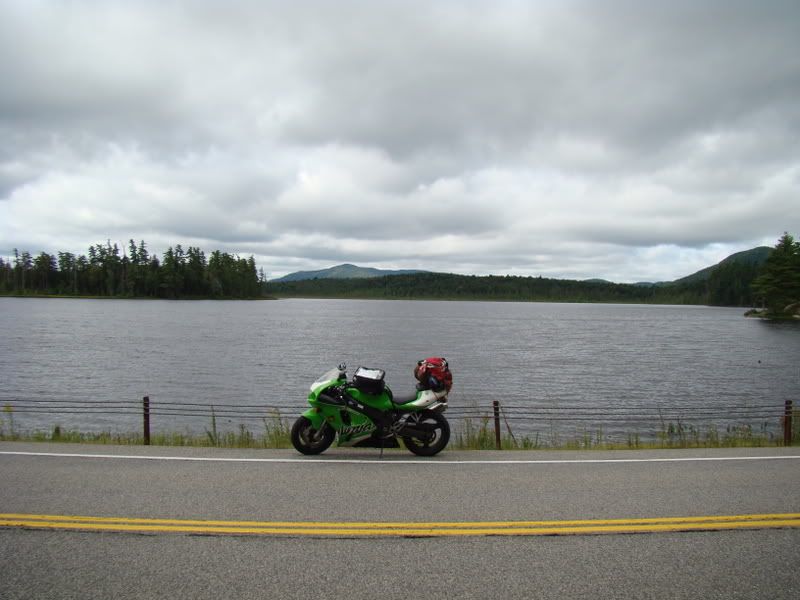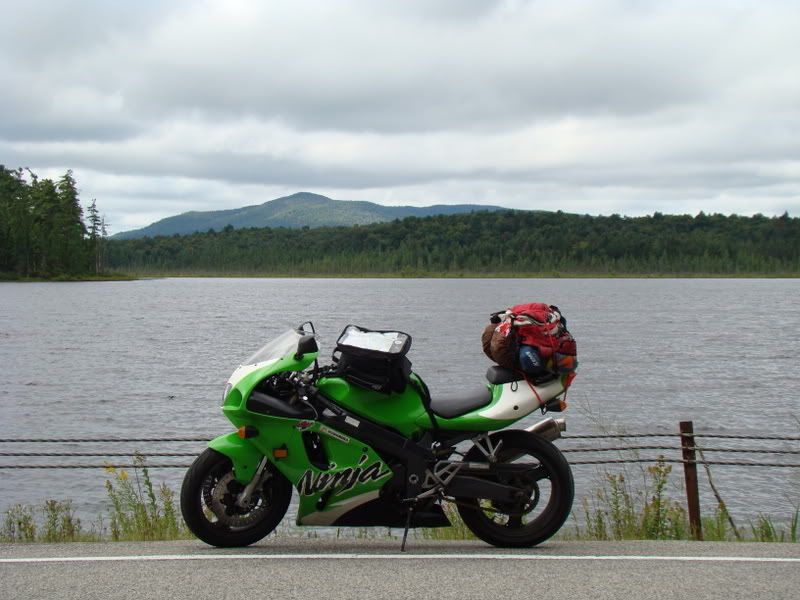 My thirst for dirt road never ends. I found one and started riding thinking it was leading to a lake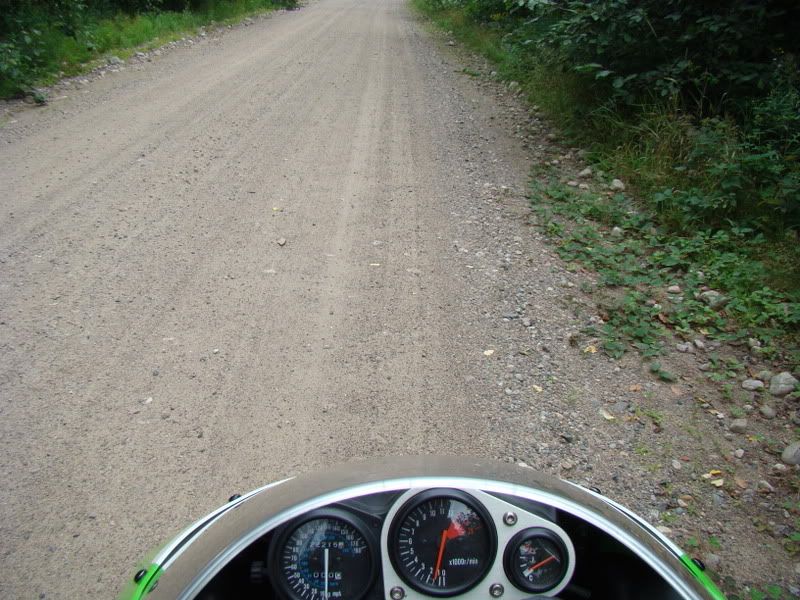 After riding for a while I realized it was going nowhere only to later realize it would take me back to the original highway. Anyways, the short 30 min ride on it was awesome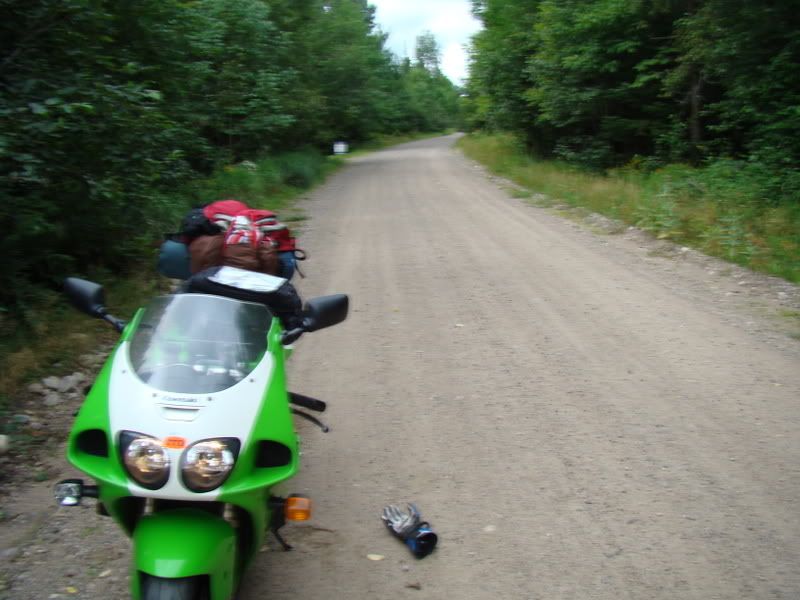 I reached Plattsburgh and after a much needed lunch (had not eaten since morning) I headed out for the Ferry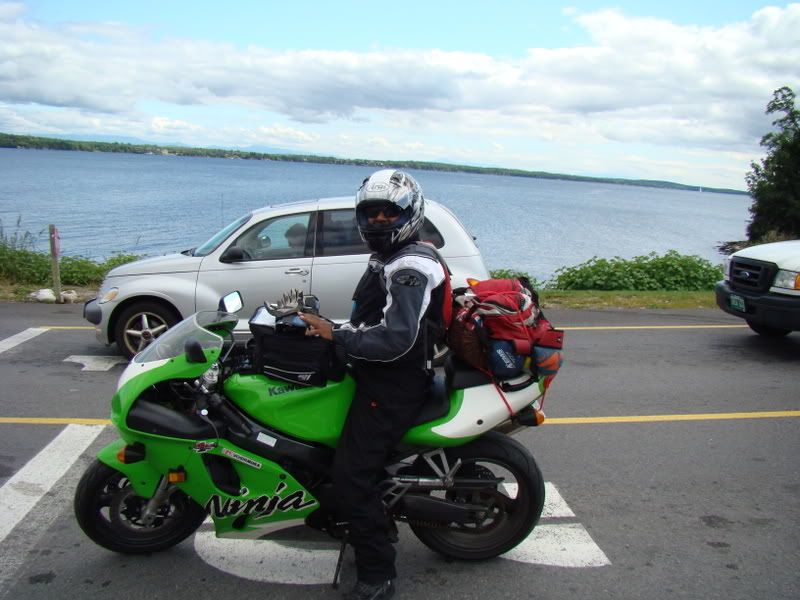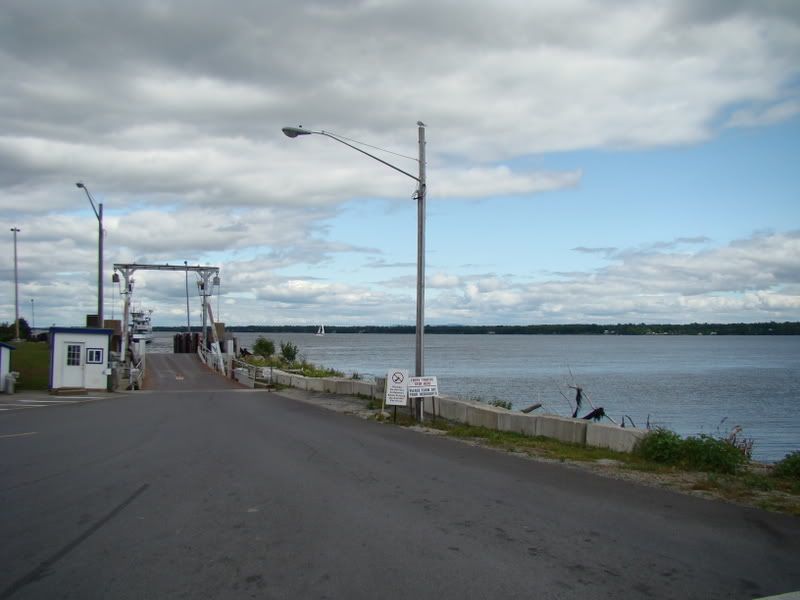 My bike's first boat ride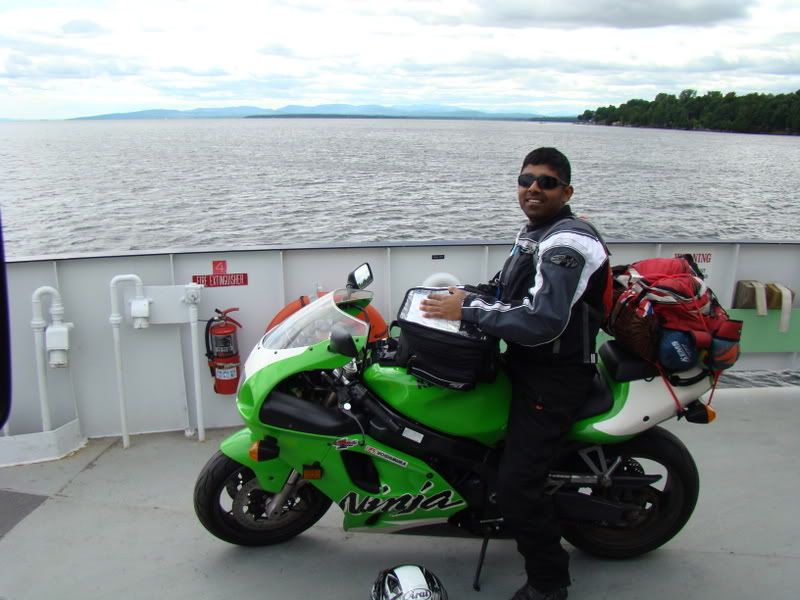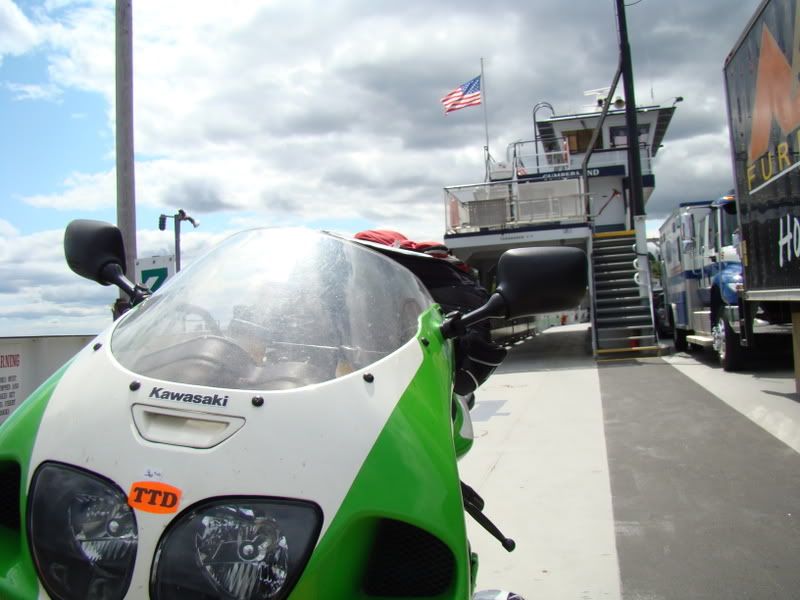 After I was dropped off, went through Grand Isle and this road to reach the highway I-89
Once I was on the highway, I slabbed it out all the way to Portsmouth only stopping for gas and a coffee.


I came back poorer, unemployed but happy! Need to find a job now to keep paying for the gas!